Have fun changing the game for edge-cloud management
Avassa is a startup aiming at changing the game for distributed cloud management, sometimes called edge computing. The company was founded in February 2020 by a group of people who have built a string of successful startups before. We are currently 20 employees. In October 2020 we received 60 MSEK in funding and are now looking to grow the team with 15 new colleagues to strengthen our engineering capacity.

Distributed cloud management is a new field with massive opportunity and lots of exciting challenges. Joining our experienced team early, offers unique opportunities for you to contribute and learn in a highly professional yet relaxed working environment.
Our engineering team is world leading in distributed computing and well known experts in the Erlang programming language. We are looking to grow our team with additional core developers, as well as expertise in DevOps, and front-end design & development to build the best PaaS offering in the industry.
We have one of the strongest teams in the world for building distributed systems. Join us!
With Avassa we are building a PaaS and are very keen to build a world-class team securing the user experience and front-end development. If you have relevant experience from UX, product design and frond-end development and want to shape a world leading solution with the best thinkable back-end team we need your help.
Come work with us and we will shape the future of distributed clouds together. We promise we will have fun doing it!
Learn more about what we do and what job openings we have! Listen to our mini-pod with Chief Product Officer, Olle Hillström and CTO, Carl Moberg.
The people at Avassa
Our people are our key assets and building the right team and culture is the number one enabler for long-term success. Attracting the best talent and making sure our teamwork runs well is at the heart of our culture.
Our DNA is deep-tech with very seasoned developers and architects. We truly value expertise and going the extra mile to create a solution that customers will find really smart and easy to use.
We are deeply grounded in computer science expertise paired with a curious customer centric approach.
We have a long track record of building a work environment mixing deep expertise with commercial sense and teamwork. Avassa is a place where people grow and develop with us for many years.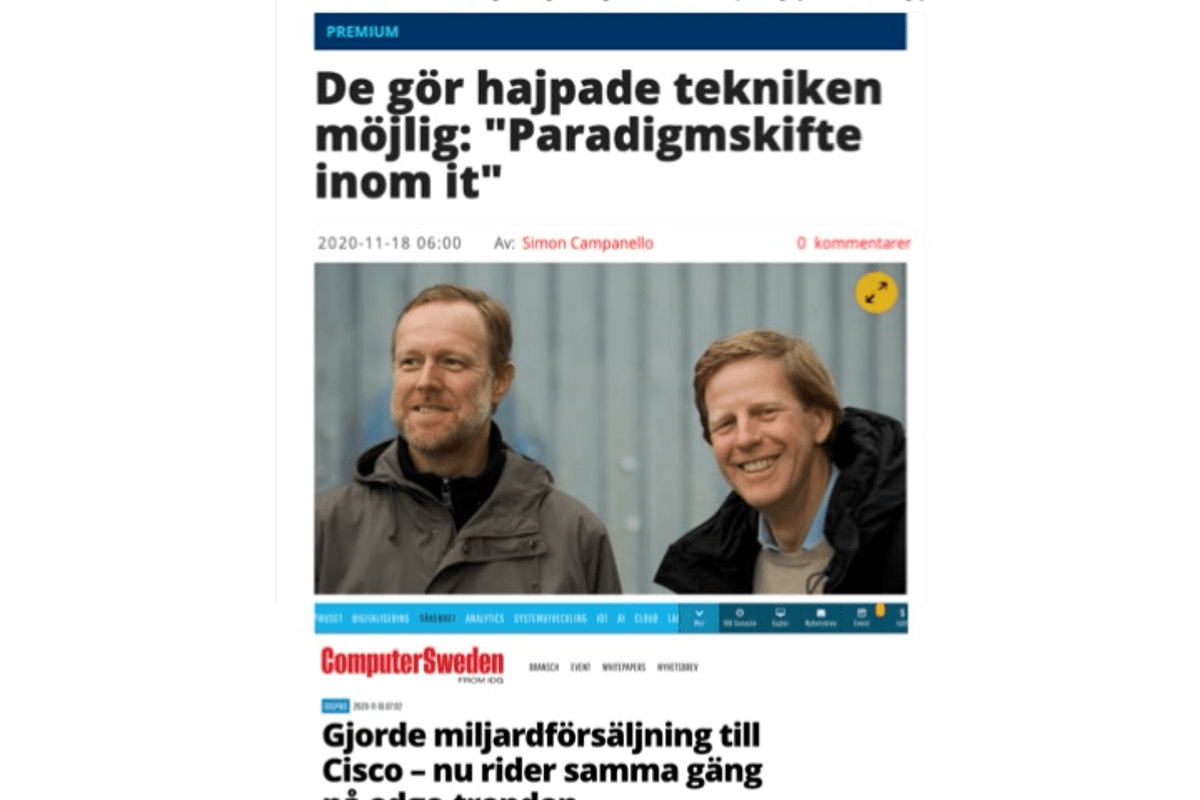 Previous success and experience is a good start!
The core of our team has built innovative technology for three successful start-ups
Bluetail, as tech team and founders
Klarna, as initial tech team
Tail-f, as tech team and founders
Bluetail and Tail-f were successfully sold to Nortel and Cisco respectively and both times the founding team continued working for the new owners; creating very successful products from the acquired assets. What we offer
Avassa founders and core team have repeatedly proven that we work very well together and bring better solutions to market, faster than the competition. The combined experience in the team is unique and now we aim to add really strong contributors.

We offer very interesting roles at the bleeding edge of the IT-industry. Joining Avassa early means lots of opportunity for personal development growing with the company. Joining the Avassa team also means a unique chance to learn from people who have successfully done this several times before.
Compensation and benefits
Compensation

Market competitive base salaries combined with stock options that align your success with the success of the company.

Pension plan, insurance and healthcare

We provide a market leading package of pension savings including advisory, leading insurance coverage including private healthcare
About Avassa Systems AB
Founded in 2020 with headquarters in Stockholm, Sweden, Avassa aims to unlock the cloud operating model for edge applications everywhere and was named a Gartner® Cool Vendor in Edge Computing 2022.
Co-workers
23 and growing